Most people doing IELTS Writing Task 2 get stressed out about which IELTS essay topics they will face. They worry about getting an unfamiliar topic and not having any good ideas or enough vocabulary to complete the task.
This article will help you by giving you the most common IELTS essay topics and showing you how to use these to get higher scores.
Why is it important to know the IELTS essay topics?
If you are familiar with the most common topics you will have a huge advantage because you will be better at two of the most important things:
Thinking of relevant ideas
Vocabulary
Idea Generation
Of all the things people worry about when doing Task 2, not having enough ideas to complete the essay is normally top of the list. However, you should remember that IELTS is not a test of your knowledge, it is a test of your English. The examiners do not expect you to be an expert on the essay topic, they just want you to show that you can write clearly and persuasively in English.
You should also realise that IELTS is a global exam and when the writers of the exam are making the questions, their main concern is writing questions that can be understood by nearly everyone in the world. For example, common IELTS essay topics are education, crime and health. Everyone in the world has an opinion on these everyday topics and you need to understand that the examiners are not looking for the 'best' ideas, they are just looking for relevant ideas.
Let's look at an example question on the topic of international aid:
Rich countries should help poorer countries when they suffer natural disasters. Do you agree?
You don't have to think of the 'best' ideas, you just have to think of two ideas that are relevant to this question. Reasons why rich countries should help are:
It is the morally correct thing to do.
They have legal obligations under international law.
Not helping will result in many deaths and suffering.
They have more than enough money to do this.
It is in their interests to do so for the peace and security of the world.
Some of their own people might be involved in the disaster.
Every rich country has a fund for disaster relief within their budget.
They might suffer a disaster one day too and need help from the international community.
You obviously do not need to think of this many ideas and some of the ideas are better than others, but the point I am trying to make is that there are lots of 'relevant' ideas you could think of.
Despite this, you will obviously be more confident and be able to think of ideas more quickly if you are familiar with the common topics. Below I will show you how you can use the common IELTS essay topics to learn about the general topics and improve your English at the same time.
Vocabulary
25% of your marks come from vocabulary and this is directly linked to IELTS essay topics. One of the main ways the examiner will judge your vocabulary is something called 'topic-specific vocabulary'. The idea is that someone with a wide-ranging vocabulary should be able to talk about any of the common essay topics easily using words that are specific to that topic.
For example, if the question was the same as above, you would be expected to use words like 'international aid', 'wealthy', 'developed', 'developing', 'earthquake', 'hurricane', 'relief fund', 'obligation', 'moral' etc. These are words that you use specifically to talk about the essay topic. You don't have to use these words, but they would help.
Therefore, the more familiar you are with the topic, the more 'topic-specific' vocabulary you will know and the higher your score will be. Knowing the most common IELTS essay topics allows you to focus on the most important vocabulary. Below I will show you the most common topics and some of the more important words you should know.
Are IELTS essay topics predictable?
Yes and no. You will obviously not be able to predict the exact topic that will come up. There are just too many to do this and it would be a very easy test if you knew what the exact topic was going to be.
However, there are between 10 common topics that come up more than others. You should focus on these first, especially if you don't have much time before the test.
The most common IELTS essay topics are:
International Development
Globalisation
Public Transport
Criminal Justice
Youth Crime
Government Spending
Traditional Culture
I think that technology, health, education and the environment are the most important topics and will feature regularly in the future.
For more information on the most common topics, please visit my most common topics page.
How can I use the most common topics?
There are two main ways you can use the most common IELTS essay topics to your advantage. The first is to familiarise yourself with them while practising and improving your English and the second is to focus on topic-specific vocabulary.
Common Topic Familiarisation
If you are going to do well in the IELTS test you need to be using and exposing yourself to English every day. You should be reading, listening, writing and speaking in English as much as possible. You should make sure that if you are listening to or reading something in English you do it within the common topics. For example, you could listen to a podcast on technology one day and then read a newspaper report about education or health the next day. Most of the questions are on current topics, therefore staying up to date with what is happening in the world will really help you think of ideas.
For example, three of the biggest news stories of 2015 were the refugee crisis, terrorism and internet privacy issues. These topics have, unsurprisingly, already appeared on the IELTS writing paper this year.
Please check out my 25 online language learning tools for lots of ways you can study within the common topics at home for free.
If you really want to get advanced, you could also try making up your own questions based on the news of the day and then give these questions to a study partner. This is something that I do with my classes. They go to a popular news site like the BBC and write a Task 2 question based on one of the stories they were reading about and then they give it to a classmate who does the essay for homework.
Vocabulary – Notebook
There are two things you can do here: start a vocabulary notebook and focus on key topic-specific vocabulary.
As mentioned above, you should be listening to and reading English as much as possible before your test. This will not only improve your listening and reading skills but will, more importantly, expand your vocabulary.
When you are reading or listening you will always notice words that you don't know. Most students simply look these up immediately in the dictionary and then forget about them. I think this is a total waste of time because the words do not stay in your head and you never use them again. A much better thing to do is to start a vocabulary notebook. This is the single most effective way to improve your vocabulary. Follow the steps below:
Buy a notebook that you will only use for vocabulary.
When you see or hear a new word try to guess the meaning from the context of the sentence or paragraph. This step is very important because it is an essential skill to develop and will help you remember the words.
Check the meaning after you have guessed it in the dictionary.
Note the new word and the definition in your vocabulary notebook.
Note down some of the following things beside the new word:

Synonyms
Antonyms
Pronunciation
Word forms
Sentences
Pictures
Examples

Review the list of words and test yourself on these words after one week, two weeks, one month and two months. Soon you will have expanded your vocabulary dramatically.
You can also do this by using apps like Memrise to record and review vocabulary.
Vocabulary- Topic Specific Words
As mentioned above, one of the ways in which the examiner judges your vocabulary is how many topic-specific words you use. Learning these words before the exam for the most common essay topics should help you get a higher vocabulary score.
However, one of the worst things you could do is simply learn a list of words and insert them into your essay. This is not how good vocabulary works and the examiners are trained to spot this. Your focus should always be on accuracy i.e. using words correctly. Because of this I advise my students to use the 100% rule.
100% Rule
You should never use any word or phrase in IELTS essays if you are not 100% sure about it. By 100% I mean that you are sure about its:
Meaning
Collocations
Synonyms
Antonyms
Grammar
If you are not 100% sure about the things above, then do not use it. If you do, you will probably get it wrong and this will lower your band score.
Vocabulary for Three Most Common Topics
Below are some keywords and phrases for the three most common IELTS Task 2 essay topics: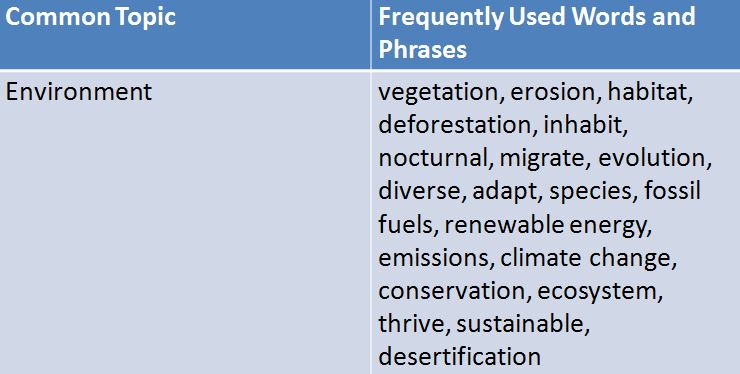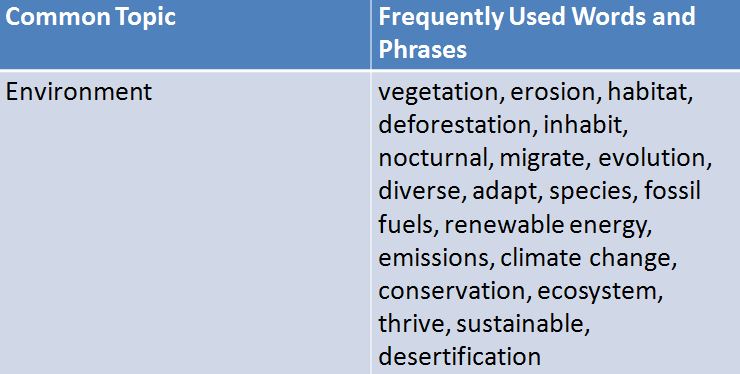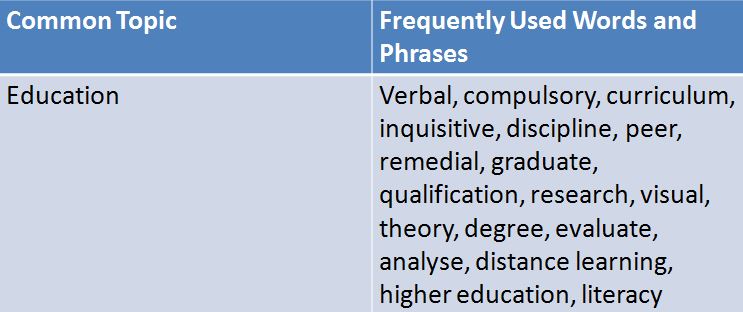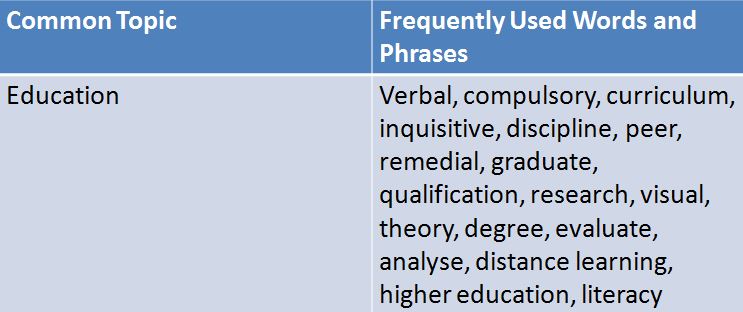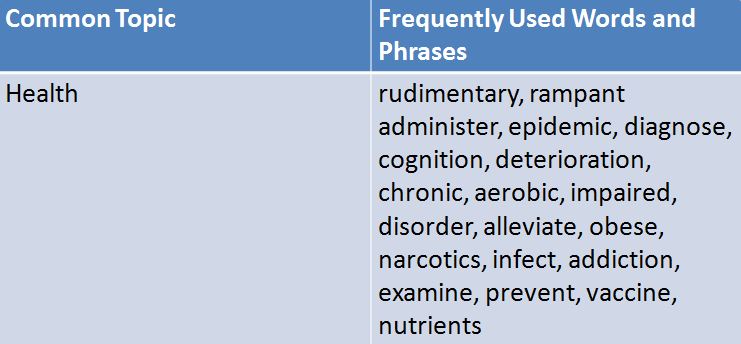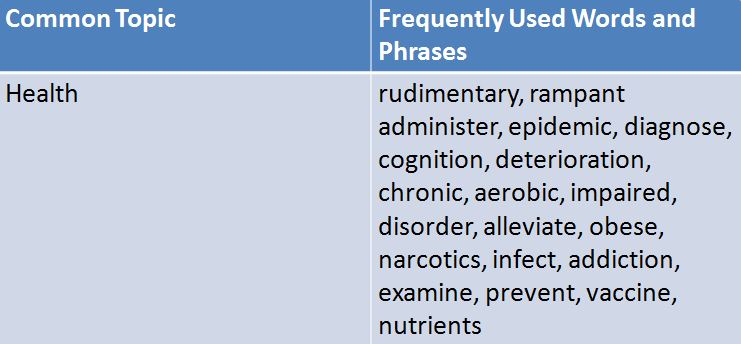 Word Circles
For all of the words above I have made word circles like the one below: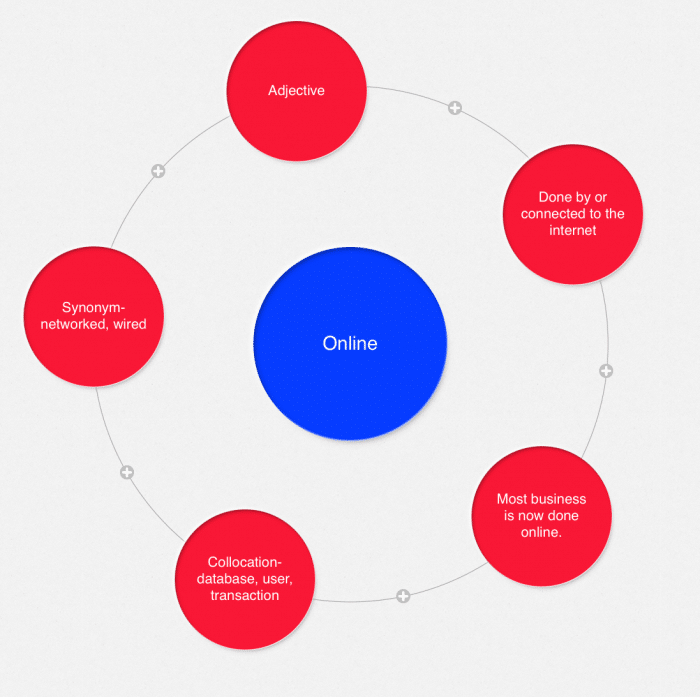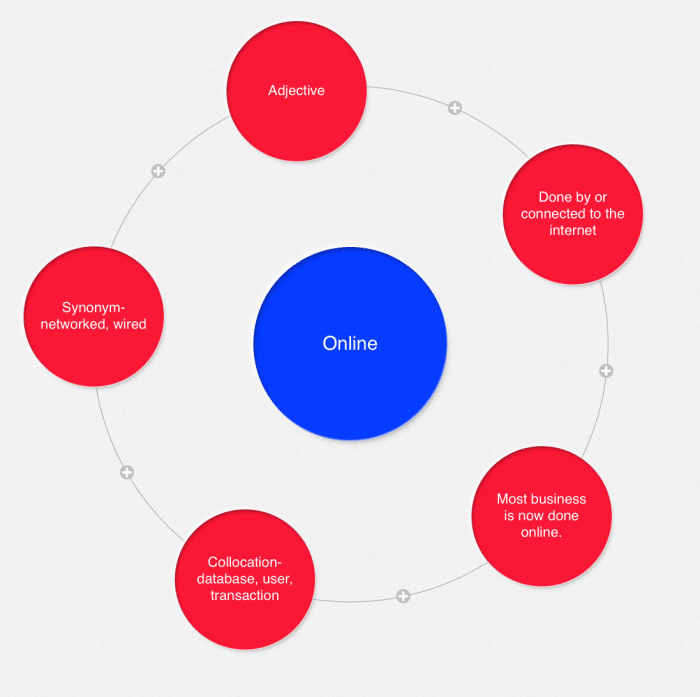 These will help you remember them and they are based on the 100% rule I mentioned above.
Click these links below to access all of them: