Phill
Teacher
Hi everyone! I'm originally from Oxford in the UK, but these days I'm living in Bogota, Colombia, in South America. I've been teaching English since 2006 and have taught in quite a number of countries around the world.
I started helping people with the IELTS exam in Vietnam back in 2012 and love being able to make a difference in my students' lives.
I have also worked as a university lecturer in South Korea and Thailand teaching academic writing and research literacy.
Prior to taking on this position, I was at the British Council in Colombia doing numerous IELTS related courses, and during this time found that all the best online resources were coming from IELTS advantage.
I'm super excited to be able to work with such a wonderful team of experts, and look forward to helping as many of you as possible reach your goals.
When I'm not teaching, I like to travel with my fat cat and play the guitar, which after 30 something years, still seems like a skill I'll never master.
Jason
Teacher
Hello everyone, I'm Jason. I'm on the Academic Team here at IELTS advantage, primarily helping our students with their speaking and writing skills and how they apply them to the IELTS test. I've been teaching English now for 13 years and instructing IELTS for 7. I joined IELTS Advantage in early 2018. The time I've spent working here has been wonderful on a number of levels, and I look forward to helping many more students reach their goals. My free time is spent cycling, listening to music, reading, and doing anything and everything in my power to avoid going shopping with my wife (I love her, but detest shopping). I also love travelling and still have a lot of destinations left to reach, and someday, I'd like to get around to writing a book.
Brian
Course Advisor
Hi everyone! I'm Brian, a course advisor here at IELTS Advantage. It's my job to help you on the journey to success in your IELTS exam. I'm here to help with all your questions.
I studied at University College Dublin and Trinity College Dublin. I taught English, Business, Economics and History for 10 years.
I like many sports, but my favourite would have to be golf. I'm very lucky as the IELTS Advantage office is close to one of the world's best golf courses. My favourite football team is Manchester United! I enjoy listening to Bruce Springsteen and The Foo Fighters.
One of my favourite books is 'The Power of Habit.' The key to unlocking almost any door in life is instilling the right habit. If you want to get better at something, make it a daily habit in your life.
I look forward to helping all of you in the future!
Susan
Teacher
Hi I'm Susan. I have an MA in Applied Linguistics and TESOL, plus 19 years of experience in ESL teaching. I was an IELTS speaking and writing examiner for 9 years while I lived in Doha, Qatar and I have been preparing students for the IELTS exam even longer.
In Doha, I worked as a coordinator for the English Foundation Department at Qatar Aeronautical College. I loved living in Doha as I would meet people from all over the world on a daily basis.
I left Doha in October 2018, but thanks to my work here at IELTS Advantage I am still in contact with people around the globe on a daily basis. IELTS Advantage is a fantastic international community where you are sure to find plenty of support and valuable advice.
Now I live in Spain, I have a beautiful home in the mountains which I share with my two dogs Baloo and Shiva. I love listening to music, doing yoga and cooking vegetarian food.
I am looking forward to meeting you and working with you.
John
Course Advisor
Hello! I am originally from Orange County, California in the USA, but am currently living in Ho Chi Minh City, Vietnam.
I've worn many hats over the years, but the one that has been most rewarding is helping students improve their IELTS scores. I have recently joined IELTS Advantage as a full-time member of the academic team. Before that, I spent the last 5 years working in various academic centers helping students prepare for this rigorous exam.
I got my bachelor's degree in economics from the University of California, San Diego in 2008. Upon graduation, I began my initial career in the banking industry, working for companies like J.P. Morgan Chase and Wells Fargo Bank. After 5 years in this field, I knew that my calling was abroad and that is when I made the decision to move to Vietnam.
When I am not teaching, I enjoy travelling, exercising at the gym or diving into a book related to personal development.
Tom
Teacher
I've been working as an IELTS professional for several years now. What first drew me to IELTS was the focus on tangible results: both the actual scores that candidates get and the fact that people's lives change in important ways because of those scores. So, helping people means making a real difference to people's lives.
I'm from England but have spent much of my working life living in different countries around the world, and nowadays I live in Spain. Living and working abroad, having new experiences, learning about different cultures – these are the things I like.
And one of the real benefits of working at IELTS Advantage is the ability to reach right across the world and touch the lives of people far away, so in a sense I'm still travelling, still meeting people from interesting places, but now, as part of a team of great teachers who are devoted to our students, I get the chance to help more people than ever.
Damien
Teacher
Hi, my name is Damien. Originally from the beautiful green hills of Wales in the UK, I have been an English teacher in both Spain and Britain for 13 years, teaching general English, academic English and IELTS to international students. As well as my diploma in teaching, I have a history degree and a masters in international relations. I am currently living in sunny, historic Seville with my wife and daughter. 
I enjoy working for IELTS Advantage because the staff are experts in their fields, and it is both fascinating and a privilege for me to interact with students from all over the world and help them achieve the IELTS scores they need.
Along with playing with my daughter, I like eating out in one of Seville's many tapas bars, watching rugby, walking and playing football. Plus, I have a strong interest in politics and creative writing.
Matt
Course Advisor
Hi everyone! My name is Matt and I have been with the company since August 2019. As you can see from my picture, I have a young daughter that motivates me to give everything I can into my work and life. When I'm off the clock, I'm either having fun with my family or watching anything sport-related. Nothing beats watching Celtic F.C with my family. I also listen to podcasts regularly, either to educate myself on new things or for relaxation and a good laugh. As a Course Advisor it's my job to help you on the journey to success in your IELTS exam. I'm here to help with all your questions.Thanks for reading this and I'll see you out there.
Michelle
Teacher
Hi everyone. My name is Michelle. I am originally from Canada, but now call England home. I've been a teacher for almost 20 years. I left Canada in 2001 for my first international teaching job and never went back. I have worked in Japan, Egypt, Morocco, Mongolia, Macau, Saudi Arabia and the UK at international schools and universities. I love working for IELTS Advantage because it is a school that genuinely cares about its students and wants them to succeed. I used to be an examiner and have been teaching IETLS for 6 years, and I truly believe that the system we have here is the best in the world. When I'm not working, I'm usually doing something active. I like to hike, cycle, play tennis, camp, practice yoga, snowboard, and I'm learning to SUP. I've been pretty much every version of health nut over the years (vegetarian, vegan, raw vegan, paleo, keto) and am a qualified yoga instructor and health coach. I love traveling and have been to more than 50 different countries. In case any of this makes my life sound exciting, I'm also a bookworm and like to be in bed by 9:30 most nights.
Erika
Teaching Assistant
Hi everyone. I'm Erika, a Teaching Assistant here at IELTS Advantage. I perform a variety of tasks, but my main role is to assist our teachers with anything they need in order to provide the best service to our students. I like spending my free time learning new languages. I'm constantly on the hunt for a good book written in an unfamiliar language, and I enjoy getting lost in curious parts of cities and countries I've never been to before. When I can, I like going out and pursuing activities that make my heart drop to my feet, such as skydiving, hand gliding, bungee jumping, and wing walking.
Jennifer
Teacher
Hi everyone, I'm Jennifer! I'm from Canada, but I've spent most of my life living and working in other countries: Australia, the States, South Korea and, most recently, South Africa. I've been involved in English language teaching in a number of different capacities for over 20 years. I've especially enjoyed working with students preparing for exams or university studies, so IELTS has been a big part of my professional life for many years. What I love about this industry is being able to help people in a very tangible way to make positive changes in their lives, and that's why it's so great to work for IELTS Advantage. The focus here is always on helping students to reach their goals, and every success story is a mini-celebration for me. Apart from teaching, nothing makes me happier than hiking in wild spaces and trying to capture some of their magic with a good camera and a lot of patience!
Sandy
Teacher
I work as part of the Academic Team here at IELTS Advantage. I am originally from Scotland, but have spent most of my adult life living and working overseas. I have been involved in education and training for nearly 30 years, working as a teacher, trainer, academic manager and project manager in the UK, Europe, Asia and Africa. I feel fortunate to now be working with such talented and dedicated colleagues who have a genuine desire to make a positive difference to our students by helping them achieve important life goals. When I lived in Tanzania, I was lucky enough to be able to combine two of my great passions – photography and wildlife. Nowadays, I content myself taking photos of my three beautiful cats! My wife and I have recently returned to Italy where we first started our teaching careers many years ago, and we are both loving being back in a country where we can enjoy so much amazing food and wine
Vincent
Teaching Assistant
I'm Vincent. As one of the teaching assistants, I provide administrative support to the Academic Team. Working here at IELTS Advantage is great because of its positive company culture, and I see this opportunity as a way to contribute to helping people achieve their goals. I spend some of my spare time watching good films that make me appreciate the art, and learn lessons about ourselves and the world. I also like eating out and going on spontaneous getaways with my family and friends.
Sonia
Teacher
Hi, I'm Sonia. I'm from England and have taught English in the UK, abroad and online in language schools, colleges and universities. I have experience as an IELTS teacher and former IELTS examiner and specialised in English for Academic Purposes with a specific focus on the IELTS exam for my Delta teaching qualification. Apart from IELTS, I have also taught general and academic English and been responsible for creating and overseeing English exams as well as teacher training. Having lived and travelled in a number of countries, I'm fascinated by languages and can understand the frustrations and rewards that come with learning a language. I'm envious of the wealth of resources available to language learners nowadays compared to when I was growing up in the pre-internet age – studying French at school, we were limited to text books, cassette tapes and crackly French radio stations!
Thomas
Teacher
Hi everyone. My name is Thomas. I was born in London and live there again now, but I spent most of my childhood in the rural Lake District and have also lived in Peru, the Czech Republic and Italy. I have been teaching English for over 18 years and have been involved in IELTS since I became an examiner in 2008. Before getting my teaching diploma, I studied languages at university and speak (some better than others) Spanish, Czech, Italian and French. In my free time I love travelling, hiking and football. I also love reading, history and doing quizzes and crosswords. I love teaching IELTS as I get to meet interesting and ambitious people from all around the world, and particularly enjoy hearing from students who have achieved their goals and went on to do amazing things.
Tina
Course Advisor
Hi everyone! My name is Tina and I'm a Course Advisor at IELTS Advantage. It's my job to help you get the IELTS scores that you need. When I can, I love to be out on a culinary adventure. I have always had a strong desire to try out cuisines from different countries. I do, however, find that no gastronomical journey can beat staying at home, experimenting with different recipes in my kitchen, and sharing a meal with my loved ones. I am here to help you with all your questions and I look forward to having the privilege of working with you!
Neil
Course Advisor
Hi! This is Neil, one of your Course Advisors here at IELTS Advantage. My goal is to help you decide which course would help you improve and achieve your desired IELTS score. I live in a vibrant, tropical country, Philippines, where I graduated with a Bachelor's Degree in Civil Engineering. Prior to IELTS Advantage, I started my career in the customer service industry. In my leisure time, I love playing online games and show people some cardistry tricks. I don't read a lot of books, but I couldn't forget "The Tipping Point". As the title implies, little things can make a big difference.
Anne
Customer Success
Hello, I'm Anne and I'm one of the Student Success Managers at IELTS Advantage. It is my responsibility to address your questions or concerns to the best of my knowledge and ability. I look forward to helping more students achieve their goals. When I'm not working, I spend time with my family and play with my nephew and our dog. I also love travelling to different islands and beautiful beaches here in the Philippines.
Jumaine
Customer Success
Hi everyone! You can call me Jumaine. I'm one of the Student Success Managers at IELTS Advantage. It's my job to send the resources you need and answer your questions in a timely manner. I'm fascinated by the inner workings of the human mind, and I have dreams of helping people, so I pursued a degree in Psychology. When I'm not busy working, I'm enthusiastic about traveling on two wheels. I love the smell of the wildflowers on the side of the road, hear the rushing speed and chirping birds, and feel every turn in the road through my whole body. Not only is it the ultimate adventure, but it also unmasks me to new cultures, unique ways of living, and frees up my mind. Now, I live in the Philippines with my family, three young cats, and three dogs.
Elleine
Customer Success
Hi everyone! My name is Elleine, one of the Student Success Managers at IELTS Advantage. My job is to make sure that everything you need has been properly addressed through emails and social media channels. I used to live in Singapore for 12 years as a Permanent Resident working in some of the biggest banks in the country focusing on customer service roles. Being away from home is a big challenge so I decided to move back to my motherland, the Philippines in 2019. From there, I've been working from home and so lucky to have found a new family in IELTS Advantage. I love long drives while listening to my favorite music and podcasts. I love the beach and the fun activities it offers.
Kristine
Customer Success
Hi everyone. My name is Kristine, one of the Student Success Managers at IELTS Advantage. My main role is to respond to your queries in a timely and accurate way. I spend my leisure time mostly at home, I read books, listen to lo-fi and classical piano music, watch anime series, and sketch. However, I also love going on nature trips with my family and friends. My favorite go-to place is the beach, especially during the sunset. I just love smelling the fresh sea air and marveling at the different colors dyeing the sky during sunset.
Lianne
Sales Administrator
Hi everyone! I'm Lianne, one of the Sales Administrators here at IELTS Advantage. I carry out Admin duties for our Sales Team and other tasks needed by the management. I have planned to take the IELTS review through IELTS Advantage and never would've thought that I would be working for the company itself! I'm a Business degree holder, currently learning about stocks and into copy trading. Animal lover and used to play table tennis as a hobby. I like all genres when it comes to music, watching and reading documentaries about different cultures, traveling, history and especially war.
Richen
Sales Administrator
Hey there! I am Richen and I am one of the Sales Administrators here at IELTS Advantage. I support and help improve the productivity of our sales team. I love my job and I enjoy each and every task I do on a daily basis. Working in a culturally diverse workplace inspires me a lot and helps me improve my knowledge. Music is my soul. I grew up listening to R&B and rap music yet I also crave for mellow ones every now and then. I love watching series on Netflix during my free time
Margaret
Teaching Assistant
Hi, I'm Margarette. I'm a teaching assistant here at IELTS Advantage and I work with the academic team from sending scripts to anything that could help in giving a better service to people all around the world. I love travelling to picturesque countries or enjoying the gorgeous beaches here in the Philippines. I do, however, also enjoy being at home with a blanket around me and watching a rerun of my favourite TV series. On occasion, I paint and sketch, or swim and sometimes even play ultimate Frisbee.
Sofia
Student Success Manager
Hello everyone, my name is Sofia and I am one of the Customer Success Managers at IELTS Advantage. You have probably come across an email or two from me by now. My job here is to make sure myself and my team answer all of your questions promptly. I have 3 great passions in life; my family, reading and travelling! I was born in Portugal where I was raised till the age of 10, before moving with my parents and siblings to South Africa. Most of my life was spent in Johannesburg beneath the beautiful African sun. Now I find myself in not so sunny but every bit as beautiful, Northern Ireland.
Justin
Social Media Manager
Hi, I am Justin and I am the Social Media Manager here at IELTS Advantage. It is my job to look after all of the Social Media platforms and ensure that you all get to see the great free material Chris produces on Facebook, YouTube and Instagram. This can be through our live lessons on Facebook and YouTube or our weekly IELTS VIP Podcast. You may have heard me in the background of some of our Live Lessons on Facebook and YouTube.
I have a Master's degree in Marketing from Queen's University Belfast and Bachelor's Degree in Politics. I am a keen technology enthusiast and love listening to podcasts in my spare time.
You can ask me any questions you have about what we offer on Social Media!
Sarah
Human Resources Officer
Hi everyone. My name is Sarah and I am the Human Resources Officer here at IELTS Advantage. My job involves lots of variety but my main tasks are the recruitment of great people to our expanding team, building our strong company culture through training and being on hand to answer queries from my colleagues of all things HR. I studied for my degree in Business Management at The University of Glasgow. In my spare time I like to cook and bake for my friends and family. I live in Northern Ireland with my husband, son and our Jack Russell called Mo.
Karen
Operations Manager
I am the Operations Manager for IELTS Advantage. I oversee the day to day running of the company, from the Academic Department who work directly with our students, to the HR and Finance departments. What drew me to IELTS Advantage was the opportunity to work for a company that genuinely cares about its students and staff. We want to help and encourage both our students and staff to work in the career and country of their choice. I currently live in Belfast with my husband and two children. In my spare time I love to be outdoors with my family. I am also passionate about yoga and I am a qualified yoga teacher.
Uyen
Finance Manager
Hello, my name is Uyen. I am from Vietnam and I am living in Ireland. I am the Finance Manager here at IELTS Advantage. It is my job to look after the team by ensuring they get paid properly and on time; accounting & financial reports as well as the other reports; and supporting the management team in driving decision making. I love working with this amazing team, where each team member is doing a great job and helping people to change their life. Before moving to Ireland, I used to work for Moet Hennessy Vietnam as a Human Resource Executive for over ten years. I love photography, exploring nature, cooking, baking and practicing yoga. When I have free time, I enjoy doing those things and especially spending precious time with my little son, Tom and my amazing husband, Chris.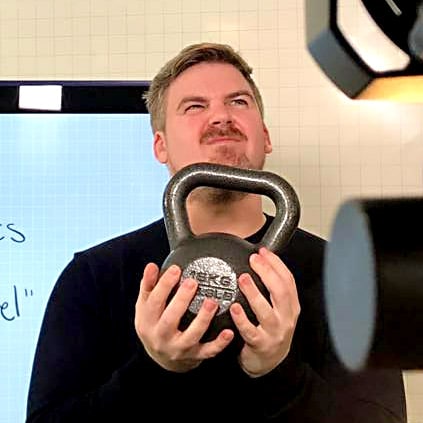 Chris
Founder
I started IELTS Advantage as a simple class blog to help 16 students in my class. I am very humbled that it has gone on to help millions of people around the world.
My main roles in the company are strategic planning, content creation and building an amazing team to make sure we can help even more people in the future.
When I'm not helping people with their IELTS scores, I'm at home with my lovely wife, Uyen and son, Tom. I hope, one day, he is very proud of what we built.
You can read more about Chris on this page.