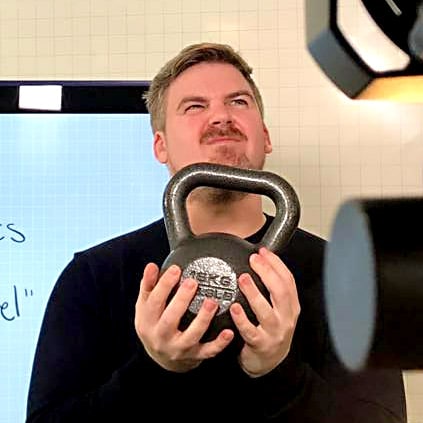 Chris
Founder
I started IELTS Advantage as a simple class blog to help 16 students in my class. I am very humbled that it has gone on to help millions of people around the world.
My main roles in the company are strategic planning, content creation and building an amazing team to make sure we can help even more people in the future.
When I'm not helping people with their IELTS scores, I'm at home with my lovely wife, Uyen and son, Tom. I hope, one day, he is very proud of what we built.
You can read more about Chris on this page.
Michael
Head of Academics
Michael is from Ireland and has been teaching English for over a decade. He has been helping students prepare for the IELTS test since 2010 and also has experience as an examiner.
He has a degree in English Literature and a Diploma in Teaching English as a Foreign Language.
A little bit from Michael- "I have worked in several different schools but since joining IELTS Advantage in 2017, I feel like the influence I can have on students' scores has increased exponentially. In all my years of teaching, the longest IELTS course I ever had was only 32 hours which I found to be quite restrictive as I needed to cover all parts of the test and give my students feedback on their work all in that length of time. This was almost impossible to do effectively but with the platform that Chris has created, the students are getting everything they need for as long as they need it which means that all the restrictions which I was under before have now been lifted. I look forward to working with you all."
Sean
Student Success Team Leader
Hi there, my name is Sean Lopez. I live in Ho Chi Minh City, Vietnam. I've spent over 5 years preparing students for their IELTS exams and now I work for Chris as part of his expert team.
Previously I was at the Royal Melbourne Institute of Technology helping scholarship students prepare intensely for the IELTS exam. This would eventually get students to Australia for different Master's programmes. While there, I taught Academic English and created writing workshops for the student body and faculty.
Before my three years at RMIT, I taught Academic English and IELTS Preparation at the Australian Center for Education and Testing (ACET) here in Vietnam for two years.
I have a Bachelor's Degree from Portland State University in Oregon, USA. In 2011, I did the Cambridge Assessment English, Diploma for Teaching English to Adults (DELTA), then on to a Master's in Education from the Open University UK.
My hobbies include mountain biking, jiu-jitsu, and computer programming. I've built apps using JavaScript, Rails and use WordPress for my websites.
Looking forward to supporting Chris and all the great students with IELTS Advantage.
Brian
Course Advisor
Hi everyone! I'm Brian, a course advisor here at IELTS Advantage. It's my job to help you on the journey to success in your IELTS exam. I'm here to help with all your questions.
I studied at University College Dublin and Trinity College Dublin. I taught English, Business, Economics and History for 10 years.
I like many sports, but my favourite would have to be golf. I'm very lucky as the IELTS Advantage office is close to one of the world's best golf courses. My favourite football team is Manchester United! I enjoy listening to Bruce Springsteen and The Foo Fighters.
One of my favourite books is 'The Power of Habit.' The key to unlocking almost any door in life is instilling the right habit. If you want to get better at something, make it a daily habit in your life.
I look forward to helping all of you in the future!
Sofia
Student Success Manager
Hello everyone, my name is Sofia and I am one of the Student Success Managers at IELTS Advantage. You have probably come across an email or two from me by now. My job here is to make sure that you all have your questions answered promptly.
I have 3 great passions in life; my family, reading and travelling!
I was born in Portugal where I was raised till the age of 10, before moving with my parents and siblings to South Africa. Most of my life was spent in Johannesburg beneath the beautiful African sun.
I moved to Brighton, UK in 2007 for 2 years and one of my most treasured memories was seeing snow on the beach. Then back to sunny South Africa for 9 years.
Now I find myself in not so sunny but every bit as beautiful, Northern Ireland.
So tell me; what is the most beautiful thing about your country and where in the world would you like to move to and why?
-thank you
-obrigado
-dankie
-Ngiyabonga
Justin
Social Media Manager
Hi, I am Justin and I am the Social Media Manager here at IELTS Advantage. It is my job to look after all of the Social Media platforms and ensure that you all get to see the great free material Chris produces on Facebook, YouTube and Instagram. This can be through our live lessons on Facebook and YouTube or our weekly IELTS VIP Podcast. You may have heard me in the background of some of our Live Lessons on Facebook and YouTube.
I have a Master's degree in Marketing from Queen's University Belfast and Bachelor's Degree in Politics. I am a keen technology enthusiast and love listening to podcasts in my spare time.
You can ask me any questions you have about what we offer on Social Media!
Ruth
Student Success Manager
Hi everyone! My name is Ruth and I'm a Student Success Manager here at IELTS Advantage. That means that it's my job to help answer your questions as best I can, making sure that you receive the time and attention you deserve! In my free time, I love brewing specialty coffee, listening to Fleetwood Mac and reading books. I recently graduated from Queen's University Belfast with a degree in English and got to read some fascinating literature from all over the world. The book I enjoyed studying the most is called "Arrow of God" by Chinua Achebe who is a Nigerian author and poet.
David
Teacher
Hello! My name is David and I am from Wales in the UK. I have been teaching English in South East Asia since 2005 and I love meeting people from all walks of life. I have a Post Graduate Certificate of Education in Teaching English as a Second Language. I have been an IELTS trainer and expert for the past 6 years and I am also a former IELTS Examiner.
I love working for IELTS Advantage because I have the opportunity to help people achieve their dreams in a very direct way. I understand how important the IELTS exam can be for people to improve their lives by getting the job they desire or moving to the country of their dreams. I'm happy to help in any way I can!
I currently live in Vietnam where I love spending my spare time on the beach and keeping fit by swimming and cycling.
Susan
Teacher
Hi I'm Susan. I have an MA in Applied Linguistics and TESOL, plus 19 years of experience in ESL teaching. I was an IELTS speaking and writing examiner for 9 years while I lived in Doha, Qatar and I have been preparing students for the IELTS exam even longer.
In Doha, I worked as a coordinator for the English Foundation Department at Qatar Aeronautical College. I loved living in Doha as I would meet people from all over the world on a daily basis.
I left Doha in October 2018, but thanks to my work here at IELTS Advantage I am still in contact with people around the globe on a daily basis. IELTS Advantage is a fantastic international community where you are sure to find plenty of support and valuable advice.
Now I live in Spain, I have a beautiful home in the mountains which I share with my two dogs Baloo and Shiva. I love listening to music, doing yoga and cooking vegetarian food.
I am looking forward to meeting you and working with you.
John
Teacher
Hello! I am originally from Orange County, California in the USA, but am currently living in Ho Chi Minh City, Vietnam.
I've worn many hats over the years, but the one that has been most rewarding is helping students improve their IELTS scores. I have recently joined IELTS Advantage as a full-time member of the academic team. Before that, I spent the last 5 years working in various academic centers helping students prepare for this rigorous exam.
I got my bachelor's degree in economics from the University of California, San Diego in 2008. Upon graduation, I began my initial career in the banking industry, working for companies like J.P. Morgan Chase and Wells Fargo Bank. After 5 years in this field, I knew that my calling was abroad and that is when I made the decision to move to Vietnam.
When I am not teaching, I enjoy travelling, exercising at the gym or diving into a book related to personal development.
Jason
Teacher
Hello everyone, I'm Jason. I'm on the Academic Team here at IELTS advantage, primarily helping our students with their speaking and writing skills and how they apply them to the IELTS test.
My personal background is that of a midwestern American. I grew up in western Iowa, studied in eastern Iowa, and lived in Chicago for many years before escaping for a very different life in southern Vietnam. I moved to Ho Chi Minh City in 2006 with plans to stay for a year or two, but I've never gotten around to leaving. I still love living here, and so does the woman I met here and married nearly 10 years ago.
I've been teaching English now for 13 years and instructing IELTS for 7. I joined IELTS Advantage in early 2018 in a part-time role to provide instruction for students via online mock speaking tests, but eventually I found myself taking on a larger role via essay corrections. Most recently, I've taken on an expanded full-time role. The time I've spent working here has been wonderful on a number of levels, and I look forward to helping many more students reach their goals.
My free time is spent cycling, listening to music, reading, and doing anything and everything in my power to avoid going shopping with my wife (I love her, but detest shopping). I also love travelling and still have a lot of destinations left to reach, and someday, I'd like to get around to writing a book.
Tom
Teacher
I've been working as an IELTS professional for several years now. What first drew me to IELTS was the focus on tangible results: both the actual scores that candidates get and the fact that people's lives change in important ways because of those scores. So, helping people means making a real difference to people's lives.
I'm from England but have spent much of my working life living in different countries around the world, and nowadays I live in Spain. Living and working abroad, having new experiences, learning about different cultures – these are the things I like.
And one of the real benefits of working at IELTS Advantage is the ability to reach right across the world and touch the lives of people far away, so in a sense I'm still travelling, still meeting people from interesting places, but now, as part of a team of great teachers who are devoted to our students, I get the chance to help more people than ever.
Phill
Teacher
Hi everyone! I'm originally from Oxford in the UK, but these days I'm living in Bogota, Colombia, in South America. I've been teaching English since 2006 and have taught in quite a number of countries around the world.
I started helping people with the IELTS exam in Vietnam back in 2012 and love being able to make a difference in my students' lives.
I have also worked as a university lecturer in South Korea and Thailand teaching academic writing and research literacy.
Prior to taking on this position, I was at the British Council in Colombia doing numerous IELTS related courses, and during this time found that all the best online resources were coming from IELTS advantage.
I'm super excited to be able to work with such a wonderful team of experts, and look forward to helping as many of you as possible reach your goals.
When I'm not teaching, I like to travel with my fat cat and play the guitar, which after 30 something years, still seems like a skill I'll never master.
Damien
Teacher
Hi, my name is Damien. Originally from the beautiful green hills of Wales in the UK, I have been an English teacher in both Spain and Britain for 13 years, teaching general English, academic English and IELTS to international students. As well as my diploma in teaching, I have a history degree and a masters in international relations. I am currently living in sunny, historic Seville with my wife and daughter.
I enjoy working for IELTS Advantage because the staff are experts in their fields, and it is both fascinating and a privilege for me to interact with students from all over the world and help them achieve the IELTS scores they need.
Along with playing with my daughter, I like eating out in one of Seville's many tapas bars, watching rugby, walking and playing football. Plus, I have a strong interest in politics and creative writing.