I know how difficult it is choosing the IELTS course that's right for you. There are so many different IELTS websites out there that it can be difficult to know which one will actually help you!
This is why we always share our Success Stories with our followers: these video reviews for the VIP Course allow our students to give their honest opinions of our online courses. Plus, they show you just how possible it is to get your required score when you get the expert support and feedback you need!
The playlist above will take you through 70+ video reviews for the VIP Course. As you'll see, the feedback offered on our courses have helped more students score a Band 7+ in their IELTS exam than any other course or school in the world. Hopefully, these videos will help you decide whether our courses are right for you too. 
Can't see the videos? See below for 3 written testimonials of our VIP courses. 
Sana enrolled in our Writing Course, Olga joined our VIP Course and Ahmed signed up for our VIP+ Course (which comes with an additional Grammar Course). 
As a result of their hard work and positive mindsets, each of these students was able to earn a Band 8 or above and finally complete their IELTS journeys. You can read their stories below!
Sana's Writing VIP Course Review

Sana chose to take the IELTS exam so that she could continue studying medicine and, like many of you reading this, had excellent general English skills. Therefore, Sana was surprised and confused when she failed to get the writing score she needed on her first IELTS attempt.
However, instead of feeling defeated or upset, Sana took action and joined our exclusive Writing Course.
In her own words:
"You need to improve. You can't stay static and just say that 'everything is fine'… If you don't put in the effort then the results are going to stay the same. So the choice is yours."
Our team was blown away by Sana's focused mindset, commitment to learning and willingness to improve. After one short month of preparation with our team, Sana was able to improve her writing skills and get the score she needed to complete her IELTS journey.
Failed attempts before joining Writing Course:
1
Writing score before joining the Writing Course:
6.5
Writing score afterwards:
8.5
Time spent on course:
Around one month
How the course helped Sana:
Using

essay corrections

to identify and tackle her personal weaknesses

Reading through the feedback on her work and applying it to her next essay

Using the VIP email address to receive personalised advice

Following Chris' strategies
Which activities helped Sana:
Reading

articles in English

every day

Watching documentaries in English

Recording and reviewing new

vocabulary

Talking to the examiner

"like I've known him for 20 years or something!"
What didn't help:
Relying on strong general English to pass the exam

Letting nerves take over

Trying to improve writing and speaking without professional help
Opportunities unlocked:
Sana can finally complete her medical exams and emigrate to the UK!
You can watch Sana's complete Success Story here.
Olga's VIP Course Review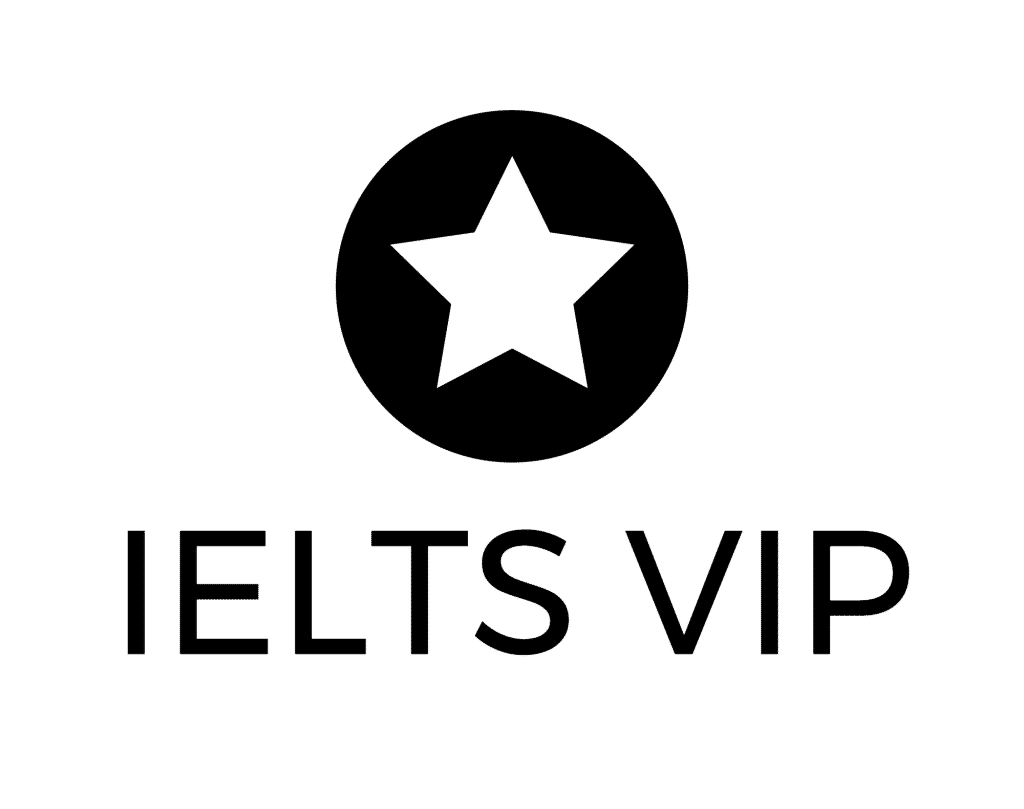 Olga chose to join our VIP Course because she wanted to improve her skills in all four sections of the IELTS exam.
We are especially proud of Olga's success because she embodies many of the characteristics that we've been teaching over the years in terms of mindset, dedication and thirst for feedback.
Olga's attitude towards learning helped her overcome her IELTS difficulties, and we wholeheartedly believe that this characteristic will allow her to overcome any obstacle she might face in the future.
You can read more about Olga's experience with the IELTS VIP  below.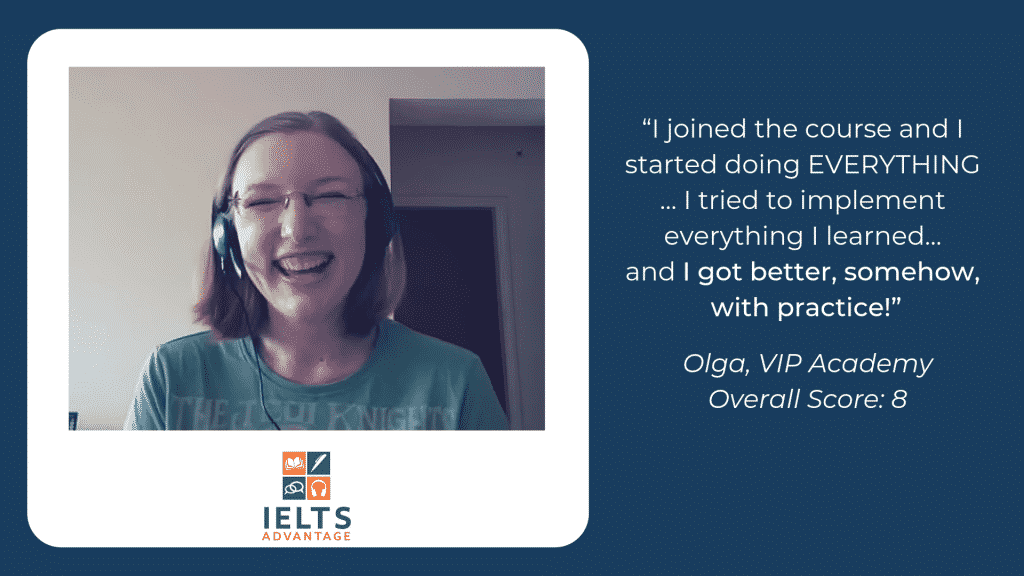 Failed attempts before joining IELTS VIP:
0
Score after joining the IELTS VIP:
8
Time spent on course:
15 months
How the course helped:
Olga

received constant feedback in order to identify and correct her mistakes

Interacting with fellow VIP Students on the private Facebook group

Olga learned how to

keep it simple

!
Which activities helped:
Practising pronunciation

Finding a place to study without any distractions

Writing essays and learning from her mistakes – Olga completed 41 essays and 14 letters in a three-month period

Surrounding herself with English
What didn't help:
Trying to follow advice from multiple teachers

Trying to be 'perfect'. In Olga's own words –

"It didn't bother me that much that I wrote some garbage!"
Opportunities unlocked:
Olga now has the VISA requirements required for her to live and work on a small island in Cyprus.  

Olga is also an exceptional case amongst our students, as she continuously participated in our private VIP Facebook group throughout her time at the IELTS VIP and continues to do so today as part of the IELTS Advantage team. To give you an idea of the workload that she undertook in her IELTS preparation, Olga has allowed me to share a brief snippet of her study plan. Take a look below: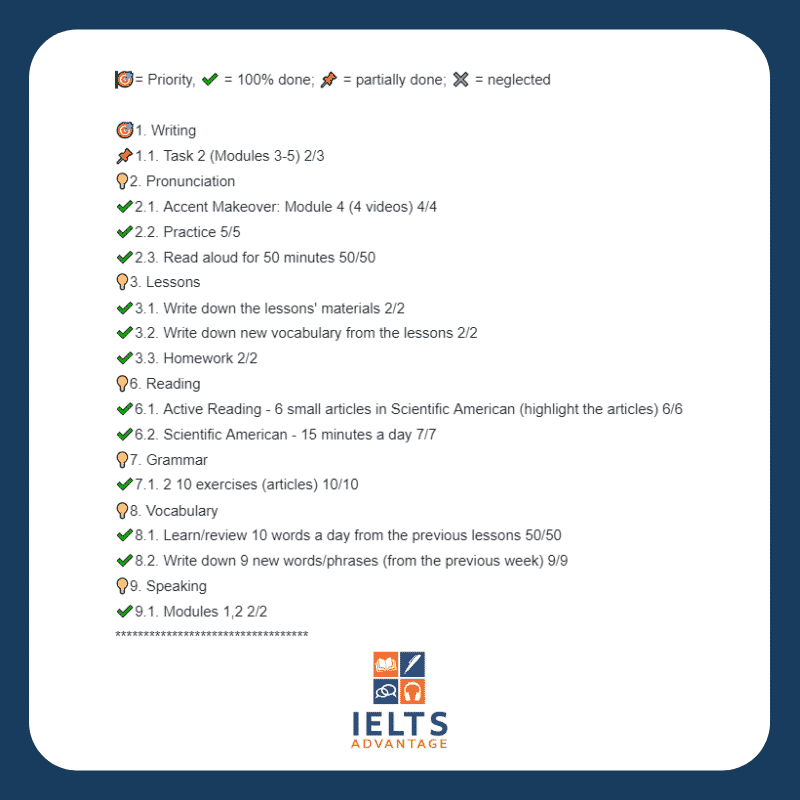 Let me know what you think of it in the comments! You can watch Olga's Success Story here.
Ahmed's VIP+ Course Review
Ahmed is a very bright software engineer from Egypt. After initially struggling with his IELTS preparation and writing skills, Ahmed decided to join our 5 Day Challenge for help with Writing Task 2.
This free course made Ahmed realise the importance of personalised feedback on his writing if he wanted to get the score he needed, so he decided to join our IELTS VIP. After realising that his biggest weaknesses were related to grammar, Ahmed later chose to join our VIP+ Course, which includes our Grammar Course.
Ahmed's commitment to perfecting his English skills and exam technique helped him achieve an overall band 8. You can read how our VIP+ Course helped with this below.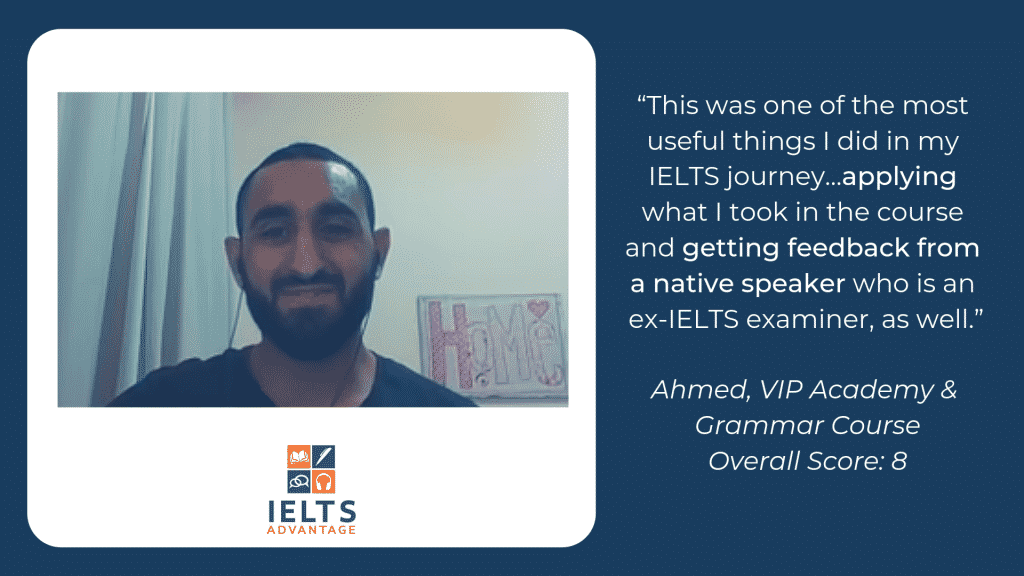 Failed attempts before joining IELTS VIP:
1
Score after joining the IELTS VIP:
8
Time spent on course:
11 months
How the course helped:
Getting feedback from IELTS professionals

Receiving specific grammar corrections

Reading essays from the Band 9 essay bank
Which activities helped:
What didn't help:
Studying grammar textbooks or long lists of words

Using free materials without seeking feedback

Feeling discouraged by mistakes. As Ahmed says,

"You're not rewriting the 

software from the beginning, you must focus on what is going wrong and solve the 

problem."
Opportunities unlocked:
Thanks to his incredible score, Ahmed and his wife can now complete their emigration applications for Canada! The IELTS Advantage team wishes them both the best of luck.
***
I hope this article has given you some insight into the workings of three of our most popular online IELTS courses. We're all incredibly proud of all of our students' success because we know just how hard they work to earn it.
Remember: these are just a very small number of our IELTS Success Stories – our VIP Course has helped thousands of people score a Band 7, 8 and 9 in their IELTS exam.
Do you want to tell your own Success Story?
Our team of IELTS experts work with a limited number of individuals that are committed to improving their skills and learning from their mistakes. If you're ready to invest the time, energy and money necessary to get the score you need, you can join the VIP Course Waiting List here or email us at chris@ieltsadvantage.com to find out whether you're a suitable candidate for our IELTS VIP.