How to get a high IELTS score:
Don't look for tips, tricks and shortcuts – these won't help you.

Don't book the test before you're ready – you'll waste money.

Invest time and energy into practising.

Change your mindset – you do have time to practise, and you can pass!

Get help from an IELTS expert, who will give you feedback and guidance.
Are you tired of struggling with the IELTS exam? Burned out at the end of the day with little motivation to study? Sick of spending your hard-earned money on an exam that you can't seem to pass?
This article will outline the one change you must make to FINALLY complete your IELTS journey.
However, before we begin, we must address the process of passing the IELTS exam.
Most people think that IELTS teachers help students get from 'point A' to 'point B' as below: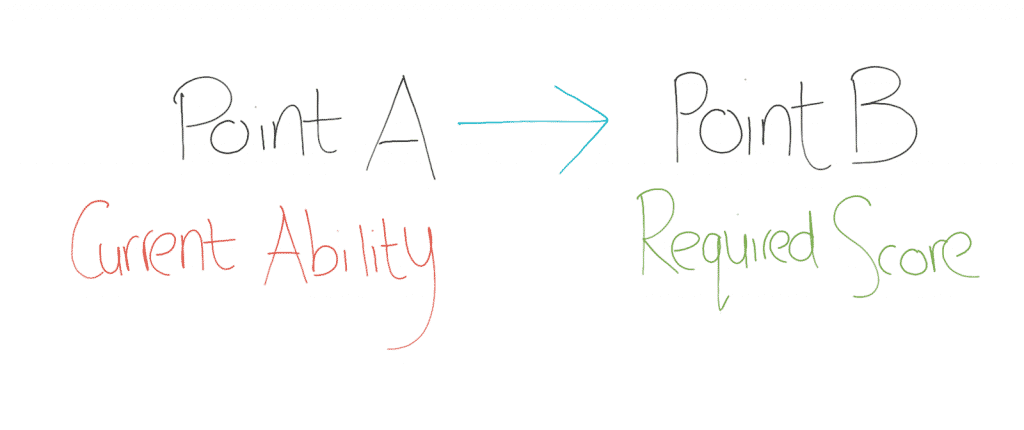 At IELTS Advantage, we see things much differently.
We know exactly what's at stake when you prepare for the IELTS exam.
You aren't just trying to 'improve your score'. Not really.
You're trying to get this exam over with so that you can move on to the next chapter of your life. Whether it's finally accepting your dream job, studying abroad or emigrating to another country, you want the freedom of FINALLY being able to say: I did it!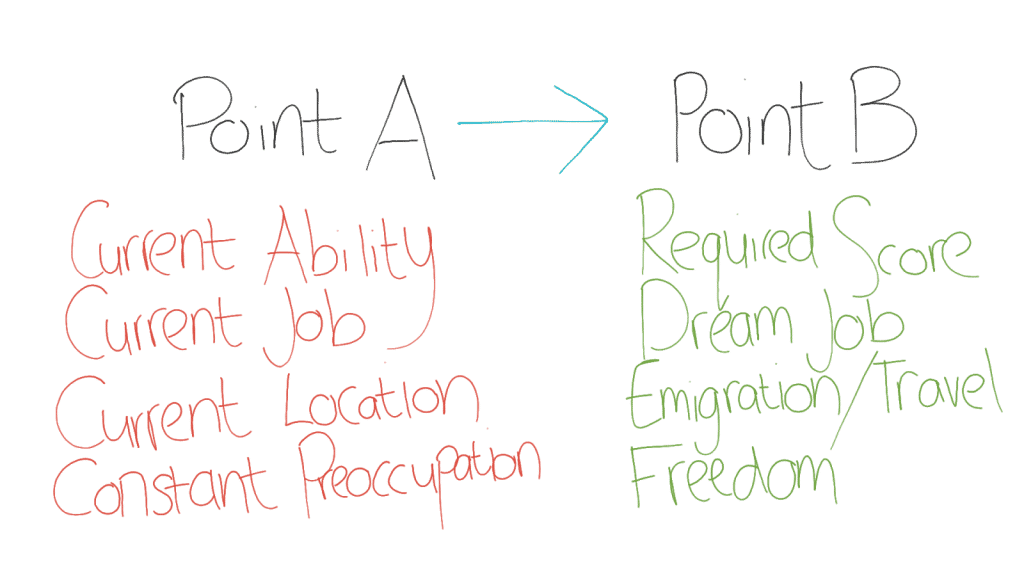 Last month our management team conducted some research into the biggest reasons for IELTS failure in an attempt to help our VIP students complete their IELTS journey. Believe me, we were we surprised by the results.
According to our research, the majority of IELTS students that we interacted with FAILED the exam because they didn't allow themselves enough time to complete the required amount of work.
That's right. Nearly 80% of people that emailed us for help had to resit the exam because of the one thing we couldn't give them: time.
We all know that everyone has 24 hours in a day, so the idea that 80% of people had less time than the other 20% is inconceivable.
Therefore, this evidence suggests that there is a much bigger issue embedded in IELTS preparation for the vast majority of students: mindset.
We know how exhausted you are. Honestly. We know how difficult it is finding the incentive to study in the evenings when you're struggling to even stay awake.
But we also know something else. Something more important. You know it, too:
Getting your required score is much more than just getting to 'point B'.
Passing the IELTS exam is the key to activating the next chapter of your life.
When you open your computer, laptop or books in the evening, do NOT waste time searching for the motivation to study. You already have it. Do NOT waste time searching for tips and tricks. Nothing can trick an examiner into believing that you can communicate in English.
But most importantly: Do NOT waste time and money on an IELTS course or teacher if you aren't prepared to do the work. Money is not a quick fix for passing the exam. The only person that can do the work is you.
However, if you've made it to this stage in the article, I don't think you're looking for a quick fix or an easy way out. You want a solution that actually works.
And the solution is simple: be disciplined.
A personal hero of mine said the that 'Freedom is what everyone wants — to be able to act and live with freedom. But the only way to get to a place of freedom is through discipline.'
The same applies to IELTS preparation. In order to gain the freedom of moving on with your life, you first need to show discipline and invest the time into preparing for it. Hope won't help you on the exam day. Preparation will.
Right now, you have two options:
1. Work hard now
2. Work hard later.
If you're ready to do the work now and put the IELTS exam behind you forever, then you need to take action against your weaknesses. It's as simple as that.
The IELTS exam isn't impossible and it definitely isn't a chore. It's your key to success.
We operate the most exclusive and successful IELTS courses available online and would love to help SERIOUS candidates like yourself to gain the freedom you need to move on with your life.
The first step is as easy as sending an email to chris@ieltsadvantage.com.
I look forward to helping you.
***