Congratulations to this student who got an 8.5 overall today.
She failed to get the score she needed first time and worked hard for one month to achieve her goal.
Want to know how she went from failing to 8.5 in one month?
I was talking to her yesterday and she was extremely nervous about her results. I laughed and said 'Don't worry, you'll be fine.' I was 100% confident that she was going to do fantastically well because she followed this system: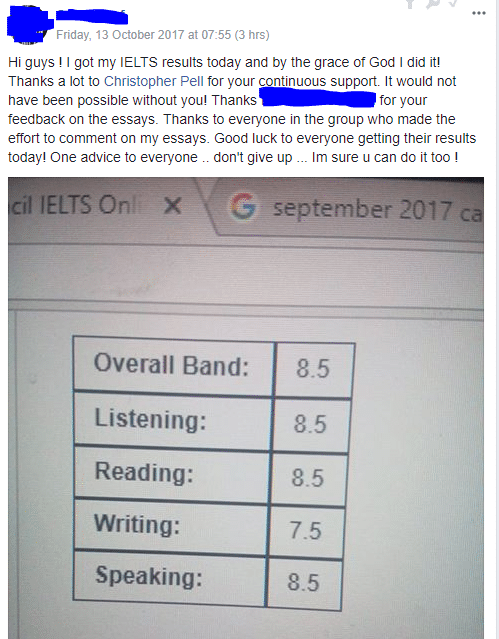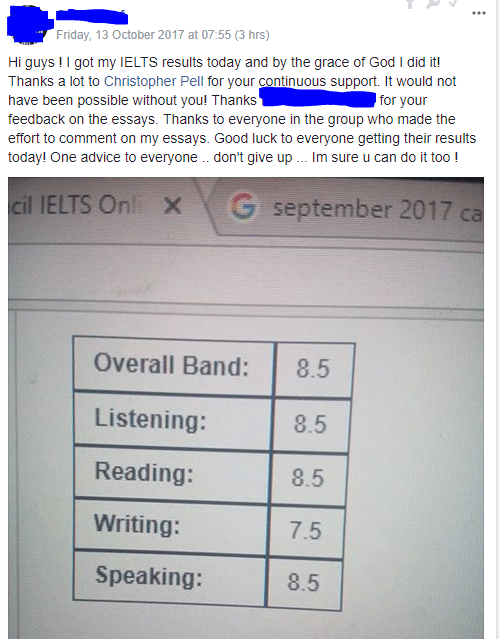 1. She first established why she wasn't getting the score she needed.
She knew the exact reasons she was falling short. If you don't know this, you have no idea how to move forward.
2. She learned how to do those things that were stopping her getting the score she needed.
However, learning isn't enough, you must DO the next stage.
3. She made lots of mistakes.
It essential that you DO the things that you need to do in order to get the score you need. When learning these new things, you will make lots of mistakes.
Welcome your mistakes. Each mistake you make brings you closer to your goal if you follow the next step.
4. She fixed her mistakes.
You must reflect on your failures and improve. This is the only way to turn weaknesses into strengths.
5. She repeated the 4 steps above until she consistently got the scores she needed in practice.
You should get feedback on your practice and don't do the test until you are ready.
Congratulations to everyone who got the scores they needed today.
If you didn't, follow the system above and get it next time.